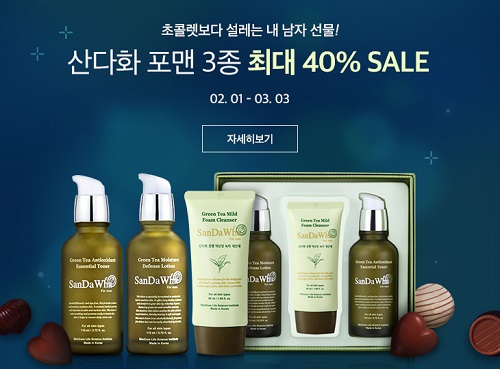 SkinCure manufactures and sells cosmetics based on natural ingredients extracted from various plants. Eliminating all harmful substances widely used in existing cosmetics, we have made "good cosmetics" that are natural and made with consideration for consumers' skin, health and environment "honest commitment".
Skincure Sandawha is a naturally derived cosmetics brand that conveys the energy of plants based on the motif that "any naturally obtained substance is more beneficial than artificially synthesized substances".
This special exhibition "Sandawha For men Green Tea Set" is a cosmetic product that cultivates and gives the skin of men who are apt to be rough and rough through daily shaving to elastic and lively skin, such as toner, lotion, and face wash. There are three types of configurations.
"Sandawha For men Toner" provides immediate moisture to the skin with the number of green teas and smoothes the skin.
"Sandawha For men Lotion" is characterized by adjusting the oil-moisture balance of the skin to give it a refreshing finish. A dual-function cosmetic that improves wrinkles and brightening.
"Sandawha For men Cleanser" can properly maintain the weakly acidic pH of the skin, protect the skin health, and use naturally derived surfactants without irritation. ..
On the other hand, SkinCure is also holding a special exhibition that incorporates rich benefits such as a mask pack set discount and a flat rate for eye cream, and an event is underway to provide a 30% discount coupon when new members join the website.

http://www.datanet.co.kr