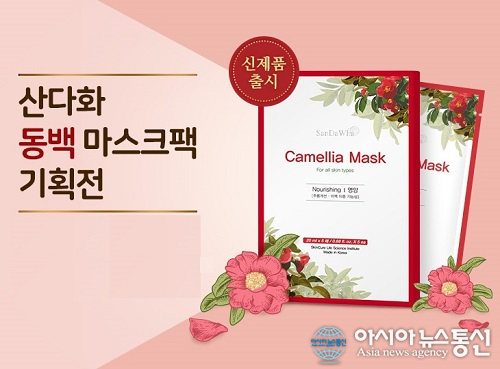 With the start of full-scale autumn, interest in dry skin care is increasing. As the temperature and humidity decrease, the skin dries rapidly, and various troubles such as itching and aging are likely to occur. Therefore, in order to prevent this, it is important to thoroughly moisturize with a cream, mask pack, or the like.
Natural cosmetics ompany SkinCure released "Sandawha Camellia Mask", a new product for autumn skin care, on October 1st. It is made from naturally derived ingredients of both Essence and Mask Sheet so that it can be used by those who have sensitive skin and have difficulty using mask packs.
"Sandawha Camellia Mask", a new product of SkinCure Mask, contains 80% or more of camellia extract, provides nourishment and moisture to the skin, improves wrinkles and whitens and cares for wrinkles. And give help to brightening.
In the case of a mask sheet, it is an environment-friendly sheet that is produced in an environment where no pollutants are generated from the production process and is biodegraded when it adheres to the soil even during disposal. In addition, it has excellent adhesion and transmits the nutritional components of the essence to the skin.
SkinCure official said, "Sandawha Camellia mask pack has excellent moisturizing and soothing effects, and can be useful for the care of dry skin when used about three times a week." "Compared with other mask packs on the market." The essence ingredient is mellow and has high moisturizing power, so it will be suitable for the use of autumn ‧ winter iron. "
Details and purchase inquiries regarding the new skin cure product "Sandawha Camellia Mask" can be found on the official SkinCure website.
http://www.anewsa.com