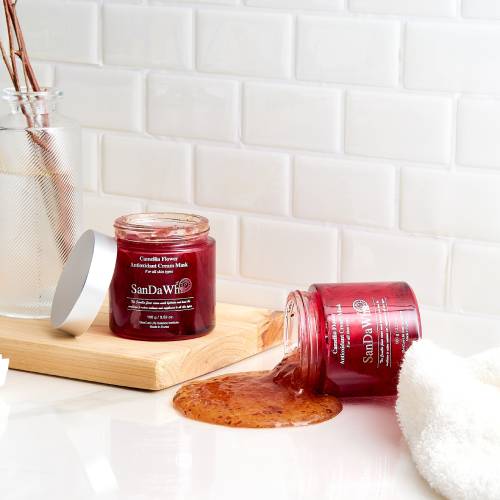 The natural cosmetics brand SkinCure "Sandawha Camellia Cream Mask" was selected as a "hit brand in the first half of 2018".
The hit brands in the first half of 2018 are courses of products that have earned the trust of consumers based on high quality, but we have selected brands that are likely to grow this year.
SkinCure manufactures and sells cosmetics based on natural ingredients extracted from various plants that grow naturally on Jeju Island. Eliminate all harmful substances widely used in existing cosmetics, and create "good cosmetics" that are natural and made with consideration for consumers' skin, health, and environment. ▲ Clean ingredients caution ▲ Hazardous substances FREE ▲ Reliable manufacturing and sales ▲ We have an "honest commitment" against animal experiments.
Based on the motif that "any naturally obtained substance is more beneficial than artificially synthesized substances", Sandawha is a science of the soothing and moisturizing effects of camellia extract and camellia oil, which are natural gifts proved.
The company's popular product, Sandawha Camellia Cream Mask, was also created by directly harvesting and processing uncontaminated camellia petals from Jeju. The specially processed camellia petals are crushed into small pieces to easily care for the skin and help to prepare healthy skin.
Provides plenty of nutrients and moisture that are lacking in tired skin by external stimulus. Calms the skin in a relaxed state and removes fine dust and waste products in the skin with a light face wash. be able to.
Sandawha Camellia Cream Mask is a wash-off type for customers who need skin care but don't like troublesome mask packs, and it has a large capacity in a 100g won container so that you can invest generously in your skin. It is a cream type mask product.
It's surprisingly easy to use. If you reduce the appropriate amount of Sandawha Camellia Cream Mask and gently massage it on your face for 2 to 3 minutes, the nutrients of the camellia petals will naturally dissolve in your skin. After the massage, wait 10 to 15 minutes and then gently wipe with lukewarm water to complete the moisturized and smooth skin.
After the mask pack, the moisturizing products "Sandawha Camellia Face Oil" and "Yamachahana Camellia Water Cream" will once again enhance the care and moisture soothing effect.
Sandawha Camellia Cream Mask has been tested by a clinical trial bureau to prevent possible irritation of the product and has been confirmed to be safe. Only neutral ingredients optimized for sensitive skin are prescribed, so even sensitive skin can use it with confidence.