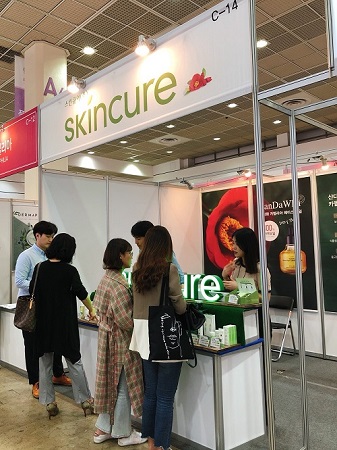 Natural cosmetics brand SkinCure has successfully completed the "2018 Seoul International Cosmetics and Beauty Industry Expo (COSMO BEAUTY SEOUL)".
"2018 Cosmo Beauty Seoul" is sponsored by Korea International Exhibition and Korea Beauty Industry Association, and shows the latest cosmetics, products related to the beauty industry and new technologies in one place, and the entire building of Hall A on the 1st floor of COEX, Samseong-dong, Seoul. It was held from May 9th to 11th at the SS Hall.
At this exhibition, Skin Cure, which showed off the "Sandawha" brand that incorporates the good ingredients of camellia, caught the attention of domestic and overseas buyers and spectators who are highly interested in natural ingredients and natural cosmetics.
A person involved in skin cure said, "Sandawha camellia face oil is composed of naturally derived ingredients and contains 73% of camellia oil, which has excellent moisturizing and nutritional effects, and has gained great popularity." The wash-off type moisture mask "Sandawha Camellia Flower Cream Mask", which is made by directly harvesting and processing the petals, attracted the attention of the audience. "
"The demand for safe cosmetics has increased, interest in natural cosmetics has increased, and" Sandawha"products containing natural camellia ingredients have attracted attention from domestic and foreign buyers," he said. I was able to realize the popularity of skin cure at "Cosmo Beauty Soul", and based on the customer needs I grasped this time, I will make efforts to develop various natural cosmetics to satisfy consumers in Japan and overseas. "
He added, "Skin Cure, which started based on Jeju Island in 2004, is gaining stable popularity by manufacturing and selling products that have been directly researched and developed with the goal of" developing products that are closest to nature. " ..
On the other hand, skin cure products can be purchased at official skin cure online shopping malls and organic stores.
http://www.e2news.com/news/articleView.html?idxno=108976